Travel Story, scuba diving in Bonaire the Netherlands Antilles in the Carabbean Sea
Proceed immediately to the pictures of the scuba diving on Bonaire in the Caribbean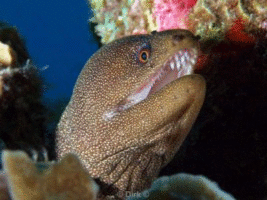 Also see the
scuba diving presentations on Bonaire in the Carabbean Sea
(movie slide show).
Dive Travel Report scuba diving on Bonaire The Netherlands Antilles


Saturday 31 October 2009

After a few hours of delay at Schiphol Airport in Amsterdam, we landed after a flight of 11 hours and 40 minutes on the small airport of Bonaire. As soon as you get off the plane, the heat burns on your shoulders. At the same time, a few drops of rain fell from the sky. November clearly means rainy season in Bonaire! It takes a while before we get through border control because the local population takes their southern pace very seriously. A bit strange is that all information signs are in Dutch; this is one of the official languages on the island. So far away from home and yet so familiar! We immediately get picked up by 2 vans (without air conditioning) of the Buddy Dive Center. After a short drive, we arrive at our hotel. A few members of our group had booked an apartment; others an ordinary hotel room. The apartments were all right, but the hotel rooms were very small. They hardly had any air conditioning or a proper bathroom and were clearly ready for a renovation. We therefore didn't waste any time and negotiated at the reception to move to the new apartments that were located at the small pebble beach. Luckily it wasn't high season and they had several apartments available. It was the charge of 200US$ more than worth it!

Buddy Dive Hotel isn't a 4 star-hotel, but it certainly offers quality. The breakfast consisted of a sufficient variation and you could even fry your own eggs and pancakes. On certain days, they also served dinner in the open-air bar (usually a fixed menu) for a very reasonable price. The food was even yummy too! The other nights, we usually went to The Lion's Den, that was located right next to our hotel.

Bonaire is known as a dive island; in other words, there is very little to do for non-divers. Beautiful sandy beaches aren't available and the flora and fauna is rather limited: the country is littered with all kinds of cacti, between which a lot of lizards and other reptiles.


Our divers go scuba diving in Bonaire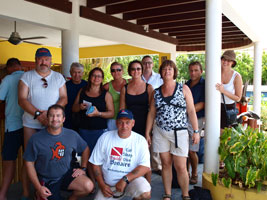 Marc, Eddy, Patsy, Godelieve, sandra, Rudi, Hilde, Jean Paul, Monika,
Dirk, Swa
Where is Bonaire, one of the islands in the Netherlands Antilles?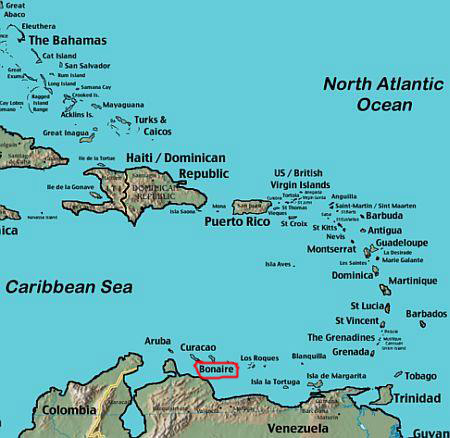 Scuba diving in Bonaire.

Scuba diving in Bonaire means side diving in the Carabbean Sea (except for 7 other dive sites). The advantage of Bonaire is that all the dive sites can be reached easily by car. The dive sites are very well marked with a yellow stone, on which the dive site's name is mentioned. You can literally park at the Carabbean Sea to go scuba diving. Tricky distances in a heat of 30°C are therefore out of the question. After you get dressed, you can jump into the Carabbean Sea and immediately start diving. How good would it be if we had places like this in Belgium and The Netherlands? Be careful because the sun is very strong. The first day we didn't even get out the shade and still got a little burned.

Driving in Bonaire is very simple. There's actually only one road that goes around the whole island. Only in the north you suddenly get to a one-way road. Here you'll have to make a little detour, while enjoying the cacti, iguanas and other reptile-like creatures. Sometimes you come across goats, raptors, flamingos and donkeys. With donkeys, we obviously mean the real donkeys of animal nature. Fortunately, we didn't encounter the other species.

In terms of the car we'd recommend a pick-up truck. You literally throw all dive tanks, dive equipment and other stuff in the back. They're great to very quickly and easily load in and out and all of this without making much effort. In the loading area of the pick-up truck there are a plastic container and a few beams attached. This so you don't need to secure anything and don't need to be careful with your wet stuff after diving.

Since there's hardly ever a strong current on the west side of the island (except for the extreme north and south), you can dive when you want. There are 63 dive sites on Bonaire and 23 dive sites on the nearby island called Klein Bonaire (which means small Bonaire). You can catch a boat to Klein Bonaire, but it isn't recommended in terms of diving locations. You may as well save the cost for the boat for other things or next dive trip. Furthermore, Klein Bonaire offers no real added value to your diving holiday. On the contrary, the dive sites on Bonaire are significantly better than those of Klein Bonaire. Don't let yourself be seduced by the boat dealers who ask a way to high price for their boat dives.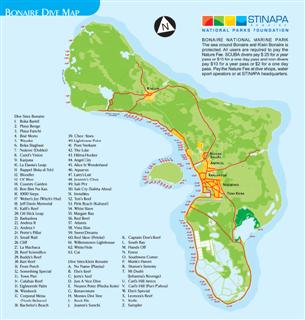 We dived with Nitrox 29 to 33 in aluminum 12-liter dive tanks. Each bottle must be measured with an oxygen analyzer (which are available on location), registered in the nitrox dive register and the bottle itself must be well marked with the names, %O2 and MOD (Maximum Operation Depth). Preferably a nitrox dive bottle that is cold so that the filling pressure at the same time can be reviewed. All dives were estimated at 1 hour or 50 bar and dive outs on 5 meters depth, at the same place as where you come back to the surface. In this case, you'll be able to use a 200-bar stocked dive bottle; especially if you want to go to 30 to 36 meters depth (restriction nitrox depending the measured %O2). Don't forget to set your dive computer correctly, on the right oxygen percentage of your nitrox mixture!

Each day we made 3 to 4 dives with nitrox and this for 6 days. Our last day was a rest day on Bonaire. This as our return flight was the day after in the late afternoon. I firmly discourage you to dive over 4 dives a day (especially for air divers). Even though Bonaire offers an unlimited amount of dive sites, it's necessary to be aware and occasionally enjoy the other things that the island offers. Allow enough time between the diving. It's a question of your own safety and that of your buddies. An accident blights not only your leave, but also those of all other fellow divers and fellow travellers!

There is a decompression chamber on Bonaire, which has about 35 customers per year! The new decompression chamber built in 2009 is housed in a building next to the Centro Medico central-clinic by doctor Dick van der Vaart and is less than 100 meters from the first aid of the hospital. Although they aren't officially merged, they have a strong cooperation. In the event of a decompression accident on Bonaire can you reach doctor van der Vaart during office hours on the following telephone number 717-7140, at night this number will be put through to the hospital. Don't forget to dial the country code, if you call with a mobile phone and be aware that the island doesn't have service everywhere. Of course, you can always call the general emergency number 911. These addresses and phone numbers are a must when you go diving.

The water in the western centre of Bonaire is 29°C and in the extreme south 28°C. A 3mm neoprene wetsuit is more than sufficient to go diving. The visibility was usually about 40 meters, but on the wreck Hilma Hooker we only saw as far as 25 to 30 meters. When you get to this wreck to see the sandy soil and slope structure, the sight still is pretty good.

Most of the dive sites on Bonaire are suitable for both beginners and more experienced divers. You can always go to a depth of 30 meters and usually even to 40 to 45 meters deep. At Karpata, a magnificent drop off, you can certainly go down to 60 meters. Bear your saturation in mind, %o2 with MOD if you dive with Nitrox mixture and mix consumption. Equally, you can dive everywhere on a depth of 10 to 20 meters. At the wreck Hilma Hooker a depth of 27 meters is recommended. The wreck lies on its side with the spacious side towards the depth. At the bottom, you'll find some big fish and other life. This is a little deeper than some dive websites indicate. However, I recommend to never dive to the maximum, certainly not on multiple saturation dives!

After the necessary research and opinion of divers who had been before, we decided to dive at the following dive sites:



Photos scuba diving in Bonaire The Netherlands Antilles: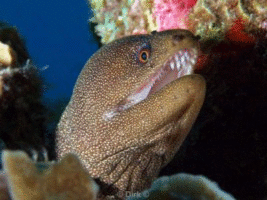 1-11-2009 Bonaire diving Buddy's reef and Andrea I
2-11-2009 Bonaire diving Toris reef and Pink beach and Aquarius
3-11-2009 Bonaire diving Hilma Hooker Wreck and La Machaca and Karpata and Buddy's reef
4-11-2009 Bonaire diving Red slave and Andrea II and Webers joy and Buddy's reef
5-11-2009 Bonaire diving Salt city and Buddy's reef
6-11-2009 Bonaire diving Ol'blue and Buddy's reef
Divers on the surface
Divers under water
Bonaire hotel Buddy Dive
Bonaire Landscape
Also see the presentations diving in Bonaire (movie slide show).



Description of our diving locations and scuba diving:
1-11-2009 Diving Buddy's reef

Diving on the house reef from the Buddy Dive Hotel is very nice and a real must do. From the filling station, sinks and dry room you can enter the water via a jetty. Firstly, the bottom is 15 meters flat and then slants down. I dived on 35 meters deep and was at least 5 meters removed from the bottom. There are very many Atlantic tarpon, especially active at night dives. Tarpons are silvery fish that can get to 2.4 meters in size. They especially hunt at night in your diving light. The first time I encountered a tarpon on a night dive, I hung about 0.5 meter from the bottom and from behind felt a big tarpon swim underneath me. I didn't expect the fish and definitely not at this size. Also found in this house reef are the Trumpet Fish, peacock flounders, French and Queen angel fish, butterfly fish, Porcupine fish, gold spotted eels, octopus (at night), different types of shrimps (including Harlequin, coral, spin and some other crabs), Groupers, spotted morays, honeycomb cowfish, Barracudas, bar jackets, white spotted file fish and so many other beauties. Despite this extensive range, I mainly played with the tarpons, which with dozens at the same time hunted in the beam of my diving light.


1-11-2009 Diving Andrea I

During the dives we came among others across the following: squid, coral devils, scorpion fish, midnight parrot fish, parrot fish, orange spotted file fish, angel fish, snappers, crabs, blue parrot fish of 0.9 meters, jack-knife fish, peacock flounders, honeycomb cowfish and many other species of marine life. A pity that due to the heavy waves the first 5 meters come with a restricted sight. Very nice dive site.


1-11-2009 Diving Buddy's reef

See above


2-11-2009 Diving Toris reef

Tarpons and beautiful vegetation. It's actually diving on a double reef, but we just went mid-way on the sandy plate, where you can find very many garden eels. We therefore didn't get acquainted with the other reef. We wanted to limit our depth time and hanging around halfway the site, we didn't feel anything for. We also just dived on the side reef.


2-11-2009 Diving Pink beach

Nice beach with a few palm trees. We had to pop out far, otherwise we'd be on the sandy bottom on a few meters depth. There were mainly rays, tarpons, snappers, and many other fish present. At a given moment we heard dolphins, but unfortunately didn't see them. Three of our girls, who didn't dive and two of them who were swimming at this time, had a very close encounter with the dolphins. Of course, they were very euphoric about their encounter and we, obviously, were jealous!


2-11-2009 Diving Aquarius

The maximum depth to go diving here was only 31 meters. As there was a force wind, there were small waves. You had to first pop out for about 200 meters to the dive buoy and the visibility was less than 20 meters. The coral was nice and we also saw many pretty fish. The different types of morays swim here even during the day. We unfortunately didn't see the large groupers, rays, Barracudas and turtles for this dive site listed on various websites.


3-11-2009 Diving Hilma Hooker wrak

Highly recommended! The maximum depth to go diving is 31 meters. On the water side, you can see 3 lowering buoys going to the wreck. We popped out to the buoy furthest left. The non-grown wreck is located on its side and would be 72 meters long. The door and deck side are addressed towards the depth. 27 meters depth is yet recommend to fully explore the sides of the spacious deck. Except for the very large holes, it's not recommended to go into the wreck. We followed up this advice. Some claim that this place would have a strong current. There was a bit of current, but quiet enough to get out without any problem. At least at our dive. I'm not sure if the current gets stronger at other times during the day. You therefore would be better off to also take other people's experience into account. We saw a very large barracuda of approximately 2 meters. On a remote distance, it was easy to shoot, but when I got closer the Barracuda got a little nervous! Mainly because there of the substance in the water. It resulted in some good close-up photos. Multiple tarpons were a present party, but didn't play much as on the night dives.


3-11-2009 Diving van Buddy's reef naar La Machaca

If you like to dive at this site, you first need to enter the hotel and pay a fee of 5 US$. We didn't do that because this place is barely 10 minutes away from our hotel Buddy Dive. You can enter the water at Buddy Dive and from there go right to a depth of 12 to 14 meters. Do this until you come across a small wreck. There you'll find a very large porcupine fish that has made this its home. If you go there to admire the fish, don't disturb it so that it remains there and other divers can visit it as well. On your way there you come across multiple tarpons that hang here in the deep. A night dive is recommended.


3-11-2009 Diving Karpata

Highlight of all the dive sites that we have visited on Bonaire. This dive site must certainly be put on your dive list. Very deep beautiful drop off to a depth of 60 meters. But you can also go till 30 meters and dive back for 15 meters. That's what we did. I would have been keen to go a little deeper because my photo device can go to 40 meters depth, but my mixture only let me go to 33 meters depth. The visibility was very good and the vegetation is stunning. The first 5 to 8 meters is a little damaged, caused by a hurricane the year before. But hasn't had any impact on anything deeper. However, we saw several turtles in the shallow bit and very many fish. Also typical to this place were the massive orange coloured corals. Chances on seeing larger fish, by the structure and current as you leave the reef are likely. There was a sufficient supply of dolphin food present, but didn't see or hear any actual dolphins. At this place, you should always stay on the east, as the western side is forbidden, because this takes you to the shipping and industrial part.


3-11-2009 Diving Buddy's reef

See above


4-11-2009 Diving Red slave

This town is very characteristic because of its small stone buildings. These buildings once served as sleeping places for the slaves. You can also read about the history of it here. We had a quiet current when we dived here. Sometimes it can be very strong. Recommended is to first dive against the current, so you can float back effortlessly. We agreed that if the current would be too strong, we'd go back to the surface immediately. This because there are no protective edges to break the current. There are also a lot of massive coral fans to spot. Between the fan corals were small fish. A real breeding ground. Also during the day, we spotted several morays swimming. Very many different types of parrot fish. Turtles in the shallow bits and a large thornback ray were involved. You can go wreck diving, around the bottom where full ballast and anchors of the wreck would lay. We deliberately choose not to go here because of the current capabilities. This location served as our first dive and our group consisted of some less experienced divers. Safety first!


4-11-2009 Diving Andrea II

Beautiful vegetation if you go a little deeper. In 2008, a storm damaged the upper parts of destruction. This was still very well visible.


4-11-2009 Diving Webers joy

Also this place was quite badly damaged by the storm of 2008. There was plankton in the water which limited our sight during the diving up to 20 meters.
4-11-2009 Diving Buddy's reef

See above


5-11-2009 Diving Salt city

This is a diving place nearby the salt production areas. The pier that was located 500 meters further was unfortunately not accessible. There was a large seagoing ship docked. This place is also only accessible with a dive guide. It's recommended to go here for a night dive, to be able to spot all the macro life, such as seahorses. Salt city is a shallow double reef of 20 meters deep with very many Sand Eels. If you look over the ledge of the 2e the reef looks very deep. We saw groupers and turtles. Note that the grouper formats that are defined on some websites, we sadly didn't see. Yet some species as large but they still hold on to fish conservation. They are likely to have caught the very large in order to give the small life a chance. This is what they also do with the coral devils. Which normally don't have their habitat around here and so, no natural enemies. Coral devils would eat the whole reef. Hence the question to report it when you see one. Include the depth, place and marking, etc. Then they will save the coral devils of nature conservation to protect their own species.


5-11-2009 Diving Buddy's reef

See above


5-11-2009 Diving Buddy's,reef

See above


6-11-2009 Diving Ol'Blue

Barracudas, Turtle, Octopus, Angel fishes and horse eye jackets were very well represented.


6-11-2009 Diving Buddy's reef

See above
Like and share this travel story with photos of diving in Bonaire with your friends on Facebook
General Information:

We dived a lot in buddy's reef. It was from our hotel, only a jump away to the water. Next to this, it was an unbelievable reef. The dive sites 1000 Steps and Oil Slick leap were also on my to-do list. These are not currently accessible due to the Hurricane at the beginning of 2009. They are very badly damaged at the entrance as well as where you'd go under water. As inquisitive Belgians, we were sure to have a look, but weren't able to see anything.



Info scuba diving in Bonaire:

Hotel Buddy Dive: www.buddydive.com
Weather in Bonaire: www.wunderground.com/global/stations/78990.html
Information site about Bonaire: http://Bonaire.uwpagina.nl
Information site about Bonaire: http://bonaire.startmenus.nl
Information site about Bonaire: http://bonaire.2link.be
Information site about Bonaire: http://www.bonaire.eigenstart.nl
Information site about Bonaire: http://bonaire.beginthier.nl
Information site about Bonaire: http://bonaire.linknet.be




Read our other dive travel stories and see our many pictures - photos about scuba diving and of the landscape from ADC Scuba diving Antwerp - Deurne

For more information on learning to scuba dive, visit ADC learn Scuba Diving Antwerp - Deurne.

Any questions about learning to scuba dive? You can always contact ADC Scuba Diving Antwerpen - Deurne for advice.

Go back to the homepage from ADC Scuba Diving learning to dive in Antwerpen - Deurne